Creating a Beautiful Outdoor Space
The welcome increase of warmer weather and longer days is beckoning us to spend more time in the outdoor spaces of our wonderfully sun-kissed, coastal Spanish homes. But how to make the most of that lovely sun terrace? Follow these tips for your day-long, open-air enjoyment now and for years to come.
What does your terrace need to do for you? Think first about what you will use this space for. If space is limited, consider: is your priority to host al fresco brunches and dinners with friends, or is it to provide the perfect summer lounge area for you to just relax quietly with a book? This will help you decide whether it is better to invest in a dining table or an outdoor lounge suite, though there are other options here too. If you always tend to eat out, installing a smaller breakfast table could still allow your sofa lounge to take priority, for example. But if entertaining is your passion, consider maximising this space by fitting an outdoor kitchen so that you can cook and socialise at the same time. And if you want to do all of these things? Sun-loungers are a more space-efficient way of letting the dining take centre stage while providing relaxation options.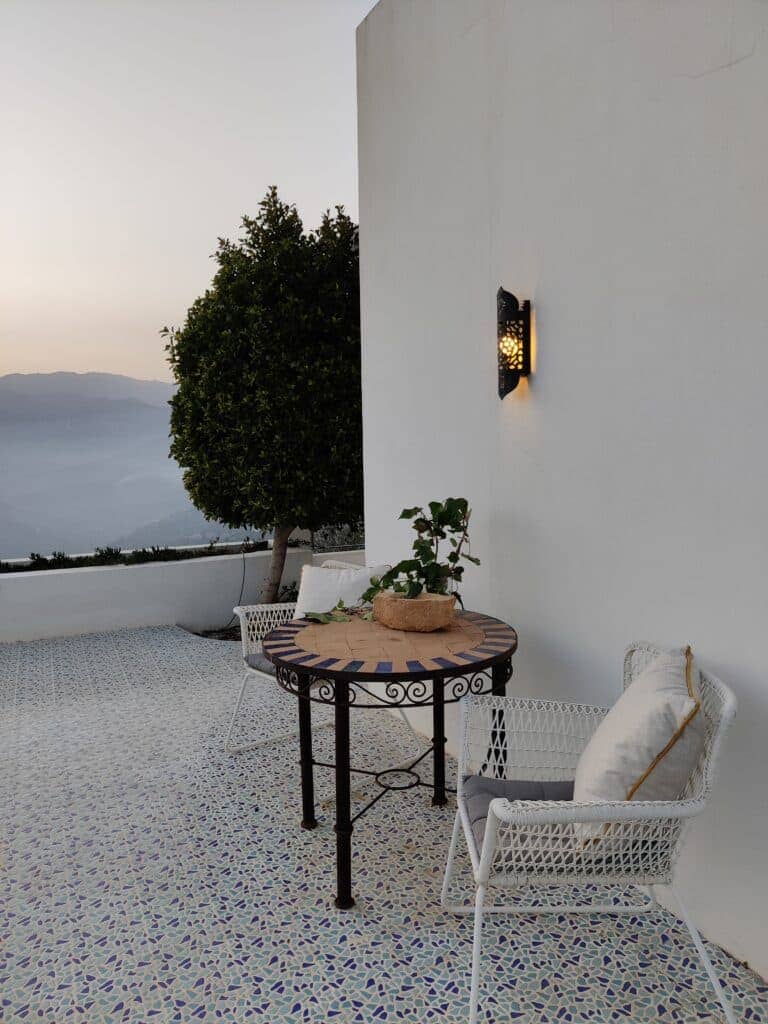 Think about having shade options as well as sunny ones : It's easy when coming from cooler climates to think that we just want the sun all day long, but this is often a mistake with the afternoon heat in Spain, which can be intense in summer. Providing some shade over your dining area will make it much more pleasant for you and your guests, and alongside sunnier spots it will provide everyone with options for all-day enjoyment of your terrace. Lucky enough to have a large terrace? Use a pergola to create a shaded 'room' within it. 
Creating ambience is easy when you know how! Clever use of lighting is one of the best ways to achieve this. A beautiful view from your terrace certainly makes it easier, since you can simply add the twinkle of low-strung lights to accompany it. Enclosed spaces need not lose out, though; make the most of a cosier feel by adding a light strong of solar LED lights. Or, draw attention to lush foliage by adding detail lighting or uplights to cast a beautiful indirect light on those trees and plants. 
Create your own green haven: especially if your terrace has more shade than sun, celebrate this by creating your own tropical paradise with the use of plants. A great tip is to install automatic irrigation to keep your greenery at its richest. 
With furniture, investing is best. The Spanish sun and salty, coastal winds can wreak havoc on outdoor furniture, especially wood. Invest in the best you can afford, ensure it is weather-treated and use furniture covers when it's not in use. 
Maximise indoor-outdoor living:  Make the most of this wonderful climate by using your terrace to create 'another room'. Decorate with well-chosen details as you would your interior spaces, adding texture with decor cushions and throws, and ambient lighting with lanterns for a sense of cosiness.